Greetings Albedonite Hunters!

In today's update we introduce a new card type, Empowered Cards, which are boosted or gain additional effects by playing cards with the same icon.
In Albedon Wars players face tactical choices every turn, deciding which units to activate first and when to play cards.
The strategic depth lies mainly in the control of zones: players manipulate the tempo and the pace of the game either investing in the future by accumulating resources or speeding up victory with a burst of points or a surprise kill.
We wanted to add a layer of interaction between tactics and strategy, introducing a mechanic that would give players more flexibility during the game and make deckbuilding more engaging.
These cards are boosted regardless of whether they are in your hand or still in your deck, and using an Empowered Card consumes all charges accumulated for that icon up to that point.
Some improve with each card that is played before them, others get an enhanced effect after a certain number of cards have been played.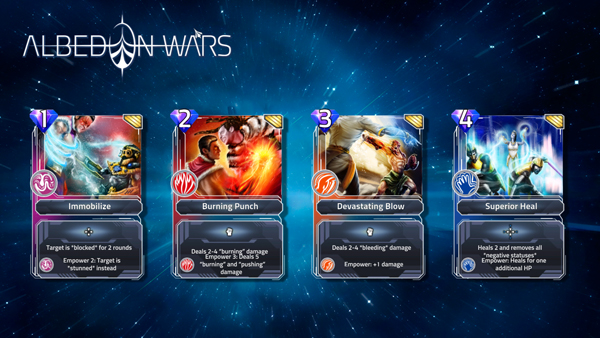 Typically, their power level is slightly lower than cards with the same icon and the same cost, but if charged enough they can change the course of the game.
They introduce not only a new level of decision-making, but also the possibility to overturn the course of the battle by investing on them and ruining the opponent's plans with devastating tempo swings.
What are you waiting for? Explore Krenus in search of Empowered Cards and teach your arch-enemies a lesson!
The Albedon Wars Team