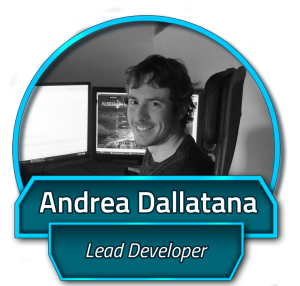 Andrea Dallatana – Lead Developer
Questions & Answers
Tell us a little about you.
Andrea Dallatana, a 34-year-old Italian computer engineer who lives in a lovely small town called Fontanellato. At the end of my college studies, video games development came to me naturally.

I've been an avid gamer and a computer enthusiast since my school days, and my first game on my father's CGA laptop was Alley Cat. As a 6-year-old boy, to help the cat jumping over trash cans and escape the dog was absolute fun. Then, I thought 'Why do I have to feel restricted playing other people' games when I can do my own?' Over the years, I have tried so many video games, on different platforms, and of various genres. Mostly, I am a PC gamer and I enjoy strategic games and RPGs, with a particular fascination for MMORPGs.
How long have you been working in the games industry? Have you worked on any other titles before Albedon Wars? How long have you been working on Albedon Wars?
I started implementing game-related stuff early in my career. As a college student, I developed an agent-oriented AI for an RTS.

After graduation, I built a game engine to learn how all the magic works, and Albedon Wars is my first title in the industry. We have been working on it for about 3 years.
What is your role in the Albedon Wars team?
I am the Lead Developer. Basically, my job is to be in charge, coordinate the moving parts which compose the game and keep them tied together. Furthermore, I am the main programmer and the game designer of the RPG part. My secret? I have a clone.
What is the idea behind starting a game such as Albedon Wars? Why did you decide to work on Albedon Wars?
Nicolò and I wanted to implement an entertaining and innovative video game. As card games lovers we thought a digital card game would fit the bill. At the time, most card games were focused only on matches builded without any reason to play outside ranking ladders or arenas; so, we figured that building an RPG around the core card battle mechanics would engage the players and make them feel absorbed by the story.
What's your favorite race/tribe in the game?
I'm a Vertu lover, the Untouched in particular.
How are player decisions meant to change the course of the game?
Player choices influence both their personal storylines, generating different paths, and the world around
them, by partecipating in faction conflicts.
Is there an American snack food you always wanted to try but never have?
I always wanted to try beef jerky even though I never got the chance when I visited the US.
Are any of the characters or quests based off people you know or experiences you've had?
All stories, characters, quests and sounds are the result of deep sessions of brainstorming among me and my coworkers. This makes Albedon Wars unique; it brings with it the best of us.
What has been your favorite part about working on Albedon Wars?
When the system works, and the mechanics you tought of on paper come to life, it's absolute fun.
What is the big end goal for Albedon Wars?
Our goal is to make the player feel part of a living world, where each battle is relevant for the progression of their character and faction.
What's next?
It's just the beginning. Our plans for future content are new regions, more storylines, other modes to play.
---