As the ancient Creed of the Origins recites, Nolaos is that planet in which:
The horizon forgot the flare, and the Breath of Krain swept across the land of Nolaos and its mountains, rippling the icy waters. Neither north nor south, but only the heights of ice and abysses of lava. Yet there, in a ravine of crumbling rock, in a handful of earth to be, the People of The Erect put down their roots, and built their world there
Nolaos, the place of origin of the new inhabitants of Krenus, is a small planet that orbits around the sun of Varias, at the centre of a distant solar system.
The motion of Krenus is such that one of its hemispheres is always exposed to the sunlight, while the other is always in darkness, except for a handful of hours of light each day granted by the reflection of the moon of Klastra, which for this reason is much loved and venerated.
The Nontu and Vertu races have always lived each in one of the two hemispheres without any contact between them. The Vertu – the more advanced of the two peoples – are totally unknown to the other, the Nontu.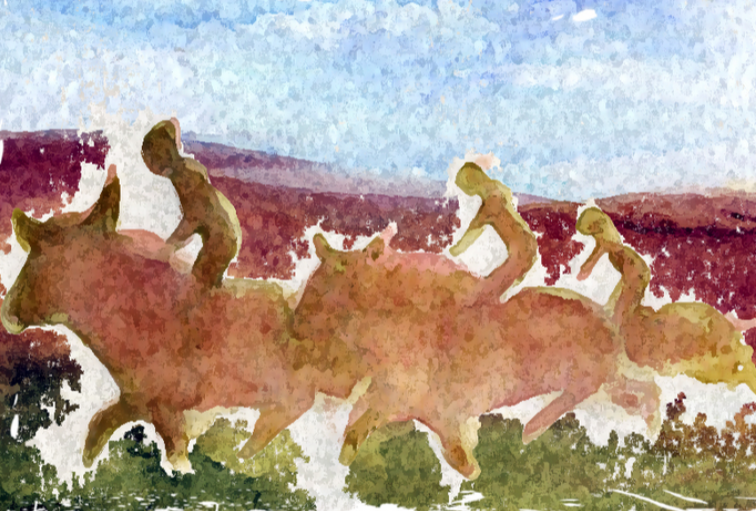 So while the first are evolving in the lush part of Nolaos, exposed to the light of Varias, the Nontu scratch a living in the other hemisphere, governed by the cruel Motherless, the beloved children of the Moon of Klastra.
But on the planet another lineage exists, albeit a minority one. At the time of the origins, in fact, a handful of Nontu who had become separated shared the same strip of land as the Vertu, giving life to a mixed breed: the Erratics, unwanted and impure beings who, unbeknown to the Nontu, had been reduced to slavery by the Vertu.
Thus it happened that one day, at an unspecified point in time, a team of Nontu, Erratics and Vertu – each with their respective legacy – abandoned the planet of Nolaos to follow the comet Albedon, wandering aimlessly through the cosmos until landing, after a long pilgrimage, on the planet Krenus, surviving the fall under a smiling destiny.
From that day begins our story.
---